What Is A Medical Marijuana Card? – Are you looking for an effective option for improving the quality of your life? Plus, for treating the severity of your symptoms? You might need something called a "medical marijuana card."
What is a medical marijuana card or medical marijuana certification, and how can you get one? Medical cannabis is making waves today because it helps treat various health conditions. A medical marijuana card is also called a cannabis card, or MMID. The patients use it to have legal access to the medical dispensary. It helps individuals to treat their various symptoms or health ailments. Moreover, this identification card permits people to grow cannabis at home legally and get medical cannabis via delivery services.
How to Apply and Get a Medical Marijuana Card?
Since you are aware of "what is a medical marijuana card," the next step is how can you own one to treat your debilitating condition.
To get the medical marijuana card, you need to have a signed recommendation or documented proof from the licensed physician that you possess the qualifying condition.
The doctor and the patient must agree that cannabis is the best treatment for the patient's condition. There is a list of conditions that qualifies a patient for having a medical marijuana card.
However, different conditions are approved in various states, and before applying for MMID, you must figure out that the state validates your condition.
What're The Most Common Qualifying Conditions for Medical Cannabis?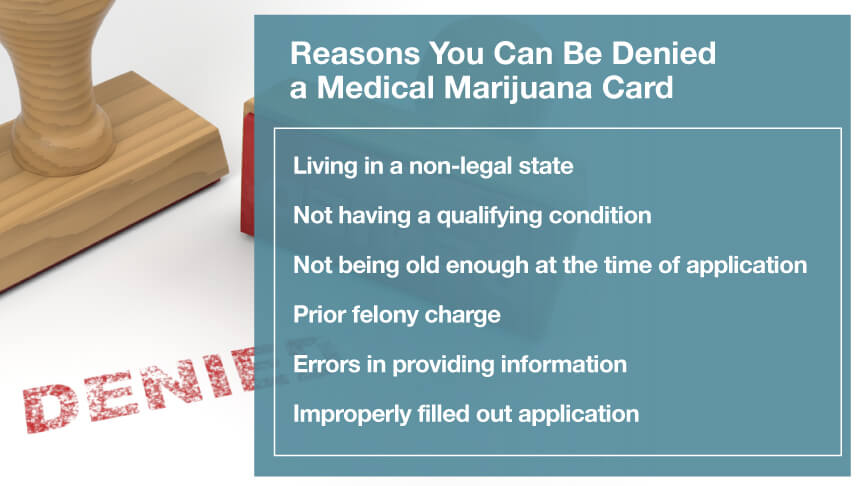 Health issues that are accepted by various states for cannabis card are as follows:
Multiple sclerosis is a condition that targets your nerves, brain, and spinal cord. The marijuana plant is composed of various chemicals that affect your body and mind.
Moreover, various studies show that cannabidiol (CBD) has multiple beneficial pharmacological effects. It is neuroprotective, antipsychotic, antiemetic, antioxidative, and antiinflammatory.
A peer-reviewed article cited in Frontiers of Neurology (2018) concluded that CBD might help MS patients reduce spasticity, pain, and fatigue. It may also improve mobility.
Post-traumatic Stress Disorder (PTSD)
PTSD is a debilitating condition responsible for causing several chronic problems like self-destructive behavior, overwhelming emotions, panic attacks, detachment from others, nightmares, and hypervigilance.
The 2020 study shows that cannabis reduces the severity of PTSD patients by more than half. Plus, with the right dosage, it can minimize PTSD-related anxiety.
Several studies showed that medical marijuana could reduce treatment side effects and cancer symptoms.
Furthermore, studies cited in the American Cancer Association showed that inhaled (vaporized or smoked) marijuana helped treat neuropathic pain (pain due to damaged nerves), weight loss and appetite, and vomiting and nausea from chemotherapy.
According to Israeli clinical trial reports, medical marijuana has helped children with autism. It has reduced their disruptive behavior and improved their social responsiveness.
Another study found that cannabis is an effective, safe, and well-tolerated option to relieve the symptoms in autistic children like rage attacks, restlessness, depression, and seizures.
In glaucoma, the optic nerve becomes damaged with time. Thus, once this cable becomes damaged, it cannot carry visual information from the eye to the brain, resulting in blindness and vision loss.
One of the most discussed treatments for glaucoma is smoking marijuana or sublingual cannabis products—these products significantly lower eye pressure.
Parkinson's disease is a progressive condition that can permanently damage the nervous system. Cannabis and its active components can help PD patients with symptom management.
Several studies and patient surveys suggested that medical marijuana can help treat nonmotor and motor symptoms of Parkinson's disease.
Other Neurodegenerative Diseases
Medical cannabis is widely used for several neurodegenerative diseases, including Huntington's, Alzheimer's, and Lou Gehrig's Disease (ALS). Cannabis has proven to improve life quality by relieving muscle rigidity and spasticity and enhancing mobility and cognition.
In Crohn's disease, the inflammation can occur from the mouth to anus. This condition can cause cramps, pain, constipation, bleeding, and constant diarrhea.
According to new studies, marijuana can improve life quality and relieve symptoms in individuals who have Crohn's disease. However, it does not impact gut inflammation.
Cannabis is in the limelight because of its anti-seizure properties, and it is approved by almost every state. Several clinical and laboratory studies suggest that the non-intoxicating compound of cannabis, CBD (cannabidiol), helps control seizures.
Plus, Food and Drug Administration (FDA) in 2018 approved the cannabidiol oral solution named Epidiolex for treating seizures caused by two epilepsy syndromes, i.e., Dravet syndrome and Lennox-Gastaut syndrome.
Cannabis plays an essential role in reducing nausea. However, research published in the British Journal of Pharmacology (2011) concluded that THC (tetrahydrocannabinol) is the main component that relieves nausea and vomiting.
Moreover, another research in Cannabis and Cannabinoid Research (2016) highlights that THC and CBD combination may provide relief from nausea among individuals undergoing chemotherapy.
Several states have approved the usage of cannabis for individuals who have HIV/AIDS to treat their various symptoms such as fatigue, nausea, appetite loss, etc.
Once your medical condition is approved, you can send your application for a medical marijuana card.
How to Apply for MMID?
After getting the physician's recommendation, you have to apply via a medical organization that provides a medical marijuana card in your state.
Since the doctor cannot prescribe cannabis, the technicalities to get a cannabis card can vary depending on your state's policies and laws.
Generally, you will have to submit a few forms with consent release, a treatment agreement, and HIPAA authorization. Furthermore, you will have to pay the fee, and it will vary depending on your state.
Federally, medical marijuana is considered illegal, but you can legally purchase it after fulfilling the proper requirements.
Your physician, as mentioned above, cannot prescribe cannabis because it will violate federal law. However, the doctor can help you in applying for your cannabis card.
Moreover, if you are planning to travel to another state and want to use marijuana for your ailment, you have to do research beforehand on whether you can use your MMID or not.
What's the Difference Between Recreational and Medical Cannabis?
In several states of the US, cannabis is still illegal at the federal level and is permitted for medical use only; however, other states have legalized marijuana to use it for pleasure.
"Adult-use marijuana" or "Recreational marijuana" has been legalized in fifteen countries plus Guam and Washington, DC. In these states, cannabis is sold in several licensed dispensaries to adults aged 21 years and older.
For recreational purposes, marijuana is available in different forms such as topicals, edibles, smokable flowers, and concentrates like tinctures, shatter, wax, hash, and vape cartridges.
In contrast, medical marijuana sold in dispensaries is specifically used for medical purposes. Although the age for MMID is 21+, there are a few programs that allow minors and 18+ patients to have marijuana for their qualifying condition.
Almost twenty-four states plus US Virgin Islands and Puerto Rico have legalized medical marijuana programs. But the program in each state varies depending on the product's type, qualifying conditions, and terms of access.
Furthermore, recreational and medical dispensaries offer the same shopping experience. Patients with qualifying conditions require both a medical cannabis card and ID to buy the herb.
Contrastingly, for recreational purposes, you only need an ID.
Plus, several shops are dual-licensed, meaning they cater to both medical and recreational consumers' needs.
What Are the Benefits of the Medical Cannabis Card in the Legal States?
If any patient can walk into the dispensary to buy marijuana for recreational purposes with an ID card, why bother to make a medical marijuana card? Is it worth the hassle? Definitely, yes!
These advantages are enough to convince you that you need an MMID.
Medical marijuana possesses no contaminants and dangerous chemicals. It is an entirely organic medication for people with qualifying conditions. Patients requiring medical cannabis require a high dosage to alleviate their symptoms.
Thus, medical cannabis cardholders are legally permitted to have high-strength marijuana products around 2000 mg in California. Moreover, Washington offers 25 mg of edibles for medical patients.
Contrastingly, recreational dispensaries are not allowed to sell cannabis products with high potency limits.
Since recreational marijuana is only permitted for adults aged 21 years and above, medical cards allow minors and adults to use cannabis for treating their ailments like cancer, epilepsy, etc.
There are twenty-nine states that permit minors to use cannabis in the form of edibles and oils. The potency limits may vary among states.
Imagine you need a constant supply of life-improving medication, but your insurance doesn't cover it! Plus, medicine prices are sky-high because they are highly taxed.
With a cannabis card, medical dispensaries provide medical marijuana at a lower price. Medical marijuana subjects do not have to pay a certain amount of tax; thus, making their healthcare accessible and affordable.
Permits to Grow Your Medicine
Every medical state does not allow patients to grow cannabis, but several do. Plus, the amount of medicine you can grow in your home is higher for medical cannabis cardholders than for recreational users.
What Is A Medical Marijuana Card (Video)?
Video Credit : Access Marijuana RX
What Is A Medical Marijuana Card F.A.Q?
What is medical marijuana?
Cannabis is medicinal due to its cannabinoids, chemical compounds found naturally in the plant. Medical marijuana is medicine derived from the cannabis plant that is used to treat specific conditions and diseases.
States with medical marijuana programs have passed legislation through their government to legalize the use of cannabis for medicinal use. These states have unique rules about who can grow, sell, and use medical cannabis.
Each state runs its medical marijuana program independently. Everything from the formats of cannabis that qualified patients can consume to the number of cannabis plants patients can grow at home is governed by the state legislature.
In many states where marijuana is recreationally legal, there are still programs exclusive to medical marijuana patients that provide them with access to higher potency products, greater cultivation allowances, and the ability to purchase more cannabis at one time.
What are the benefits of having a medical marijuana card in a legal state?
As states across the nation begin to fully legalize adult-use cannabis, many may be wondering how this impacts medical cannabis dispensaries and card holders. What does it mean to be a medical cannabis patient in a world where anyone can walk into a recreational dispensary, present their state ID, and legally purchase cannabis?
Is the hassle of visiting a doctor for a medical card still worth it? Are there any real benefits?
The answer is yes—there are many real benefits for medical cannabis card holders. From dosage to access and affordability, patients will find plenty of support for their ongoing care on the medical side of cannabis legality.
*Lower costs and taxes
*Higher potency limits
*Cannabis patients under age 21
How to buy cannabis in legal medical states?
Step 1: Check your medical cannabis qualifying conditions
Note: In many states, you must be a resident to receive a medical cannabis card that is valid within that state. Some dispensaries will accept valid, out-of-state cards—check the section above to find out which states have reciprocity laws.
As with any prescribed medication, you'll need a reason for a doctor to recommend medical cannabis. Each state has a specific set of ailments that can be legally treated with cannabis. These are called "qualifying conditions.
Common approved medical conditions include cancer, pain, glaucoma, HIV/AIDS, PTSD, fibromyalgia, Crohn's disease, and multiple sclerosis—however, in most states, the list of qualifying conditions is considerably lengthier.
Step 2: Get your medical cannabis card
Once you've determined that you qualify for a cannabis authorization in your state, it's time to locate a doctor permitted to prescribe cannabis. Ask your doctor if he or she is comfortable recommending medical marijuana, or if you can receive a referral to a medical professional who issues authorizations.
Step 3: Find a cannabis dispensary near you

Every patient has unique needs and deserves an experience that caters to them specifically. Shop around a bit until you've found a store with a staff, atmosphere, and product selection that really appeals to you.
Step 4: Learn the cannabis basics
That's it! You have reached the end. I hope it's all clear now about "what is a medical marijuana card" and why it is crucial to own one.